Artist Profile
| | | |
| --- | --- | --- |
| SRA Member #D24 | As a jewelry maker and a jewelry lover, I have always been fascinated by glass beads. A few years ago I took a bead making class and fell in love with the torch! Within 6 months I had purchased a kiln and upgraded my torch. Then I started playing with fused glass. | |
I later realized that the Precious Metal Clay (PMC) I had been working with for several years was better controlled when I fired it in the kiln, and that it worked beautifully with my glass pendants and cabochons, so added that also.
~ What About Katie? ~
I have been a "frustrated" artisan and craftsperson all of my life…my wonderful parents always encouraged my art, but didn't know anything about how to make money at it, so they directed me into professions that they knew would help support me.
Good thing, too, I guess, because I ended up raising my daughter into adulthood solely on my own.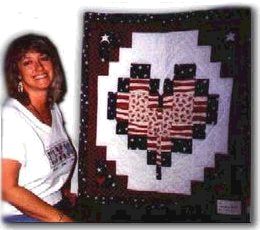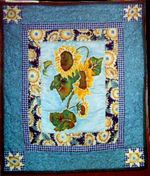 But over the years I continued to draw, paint, sew, design, construct, try out new things. Christmas presents were almost always handmade.
I learned to quilt about the time my first grandchild was born, and I fell in love with fabrics again.

But I wanted to have the colors that suited me and the designs I wanted to create – so first I started embellishing what I had, and finally I started dyeing my own.
Along the way I discovered the wonderful rich world of silk painting and I became hooked on that (and still am). I decided to incorporate my handpainted silk into my wall quilts.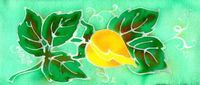 Imagine my excitement when I won first place ribbons and cash prizes at the county fair for my silk painted items and my silk embroidery. I placed items in local stores and they sold! You can see some of what is currently available at MagicalSilk.com. I still teach occasional classes at the local arts center.
Somewhere after the grandson was born I married the man I had been looking for all of my life, and we moved up the Northern California Redwoods. This a beautiful place where the redwoods meet the ocean, and is a constant source of inspiration and peace.
I have always loved jewelry and have dabbled in it since the late 1960's when "hippy beads" were all the rage. My dad was a lapidary in his later years, and taught me a little about fabricating sterling silver settings. He also created a scrimshaw set-up for me (scribed ivory, ivory nut or bone). I loved it, but had to give it up because all the years of typing (in the jobs that supported me and my daughter) caused some minor carpal tunnel problems with numbness. That's also the reason I don't hand quilt any more.
Then, several years ago I started playing with Precious Metal Clay – and began creating beautiful silver jewelry for myself and my friends.
OK, I loved making jewelry, but just like with quilting, I wanted to have access to the colors and designs that *I* wanted. So, a couple of years ago I started thinking seriously about glass beadmaking and began to look for classes in my area. We are a small community, but have a huge number of self-representing artists. We have an annual art festival every year near the Autumn Equinox called the North Country Fair. The fair has been going on for over 30 years, and we still have friends throughout California and Oregon who make the trek every year to purchase items for their Christmas lists.
Luckily, I found a lampworking teacher and learned about hot
glass! I set up a small studio alongside the fabric dying area, and have been playing ever since. I recently upgraded to a better torch, and I finally got my kiln, so now all my beads are annealled – good thing too, since some of my early favorites broke while simply cleaning and handling them.
Over the past year or so I have focused more on the fused glass – mostly because we need to upgrade the ventilation in my studio to accommodate the propane/oxygen mix that my torch uses.
But all this time I have also continued to work outside the home, so my artistry and craftsmanship has had to be limited mostly to weekends and the occasional evening when I can sneak away for an hour or two. However, the good news is that while I was raising and supporting my daughter, I worked for a company that will give me a very good retirement pension, so in a relatively short time I will stop working outside the home and begin to work entirely for my own satisfaction!!
---
It is impossible to portray the colors with 100% accuracy due to the differences in monitors and the lighting when the digital pictures were taken.
Glass is particularly difficult to show since it is difficult to light without reflection. Dichroic glass has the particular qualities of transmitting one color and reflecting a different color. All of this makes photographic accuracy almost impossible.
All items are from a smokefree and petfree studio overlooking the Pacific Ocean on the far Northern California Redwood Coast.